Fanchi-tech Inline Metal Detector for Aluminum-Foil-Packaged Products
Product Detail
Product Tags
Traditional metal detectors are able to detect all conducted metals. However, aluminum is applied to packaging of many products like candy, biscuits, aluminum foil sealing cups, salt blended products, aluminum foil vacuum bag and aluminum containers, which is beyond the capability of traditional metal detector and leads to the development of specialized metal detector that can do the job.
Fanchi Aluminum Foil metal detector is specifically capable for the detection of ferrous and stainless steel from aluminum sealing bags, aluminum foil bags, highly salty products inside aluminum foil bags, aluminum tinned ham, sausage and products made in aluminum.

Detection of metal contaminants in aluminum-foil-packaging products
Magnetoreflection method detects metal contaminants in aluminum-packaging products regardless of shapes and orientation of contaminants. Stainless steel can also be detected with high sensitivity. Ideal for aluminum-packaging products such as retort pouches, chocolate and poultice.
1.Equipped with 7-inch color screen, pre-installed operation menu, convenient for human-machine exchange coordination and learning, intelligent sampling learning function according to material characteristics.
2. High-sensitivity sensor application and integrated control method can effectively solve the detection ability of magnetic metal foreign objects in aluminum film and aluminum foil packaging products.
3. Using 32-bit microprocessor, superior digital signal analysis and processing,improve system sensitivity,anti-interference and long-term stability.
4. Data can be baked up via USB.
5. Support software upgrades to facilitate system maintenance.
1.  Height adjustable detector head specifically for aluminum foil package.
2.On line driving component failure detection.
3.Japanese Oriental DC brushless motor.
4.Japanese Oriental motor controller.
5.Swiss Habasit food grade PU conveying belt
6.Highly adaptive intelligent detection level setting.
7.Stainless steel304 frame.
Product Name

Metal Detector for Aluminum Foil Packaged Products

Tunnel Size

Width: 240mm/300mm/350mm/400mm

Adjustable Height: 1-120mm Adjustable

 

Best Accuracy

Fe≥1.5mm   SUS304≥2.0mm

Material of Construction

304 Brushed stainless steel

Power Supply

220-240 VAC, 50-60 Hz, 1 Ph, 400W




110 VAC, 60 Hz, 1 Ph, 200W

Temperature Range

-10 to 40° C (14 to 104° F)

Humidity

0 to 95% Relative Humidity (Non-condensing)

Belt Speed

5-35m/min(variable)

Conveyor Belt Material

Food level PU belt

Operation Panel

Touch Screen

Product Memory

100

Rejecting Mode

Sound and light alarm

Software Language

English(Spanish/French/Russian, etc optional)

Conformity

CE (Declaration of Conformityand Declaration of Manufacturer)

Automatic Reject Options

Belt-Stop / Stop On Detect, Pusher, Air-blast, Flipper, Flap, etc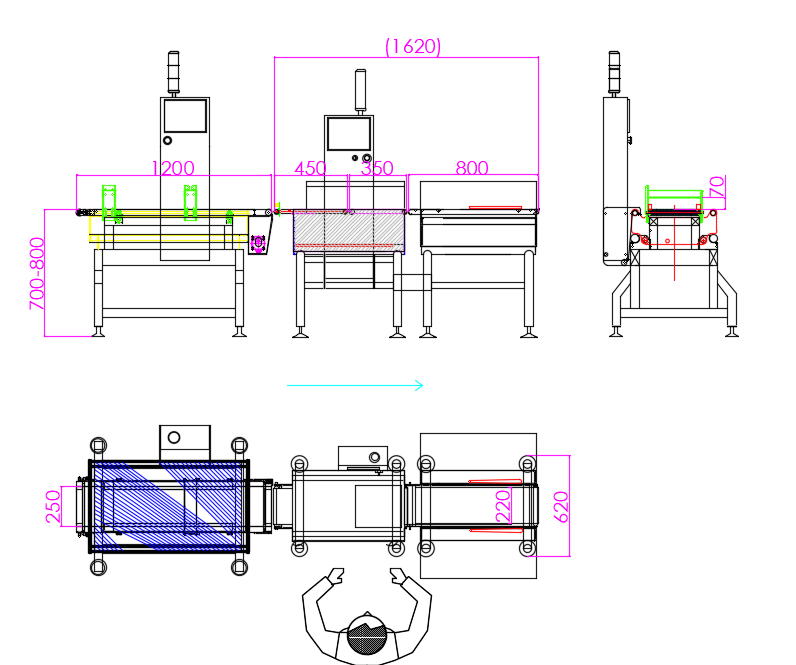 ---
Previous:
OEM/ODM Factory Big Discount Germany Valve Nc Sheet Metal hydraulic Guillotine Shearing Machine
---