Fanchi-tech Standard Checkweigher and Metal Detector Combination FA-CMC Series
Product Detail
VIDEO
Product Tags
Fanchi-tech's integrated Combination Systems are the ideal way to inspect and weigh all in one machine, with the option of a system combining metal detection capabilities along with dynamic checkweighing. The ability to save space is an obvious advantage for a factory where room is a premium, as combining the functions can help save up to around 25% with this Combination System's footprint versus the equivalent if two separate machines were to be installed.
With Combination Systems being able to check the product's weight, they are perfect for checking food in its finished form, such as packaged food to go and convenience foods that is about to be shipped to the retailer. With a Combination System, customers have the reassurance of a robust Critical Control Point (CCP), as it is designed to highlight any detection and weight issues, helping improve quality of production output and simplifying processes.
1.Accurate and efficient rejection system.
2.Switch Products in Seconds with a Library of Stored Products up to 100.
3.Brushless motors & proven conveyor components designed for reliable 24/7 operation.
4.High precision digital load cell, adopt high-speed digital filtering processing technology.
5.Further weighing stability by platform positioning rail and enhanced conveying / weighing platforms.
6.Ultra-fast dynamic weight tracking and automatic compensation technology effectively Improve the detection of stability.
7.Simple Operation with color touch screen, including multilevel password access and data logged events to aid traceability.
8.For dynamic weighing of large end-of-line packaged goods including convenience foods, sachets and ready meals.
9.Fast, Simple & Accurate Setup: type in your product details, initiate setup, and pass a pack several times and it is automatically set-up and ready to use.
10.Detector head by hard-fill technology provides stable and high metal sensitivity.
11.Excellent processing and weighing by FPGA hardware filter with intelligent algorithms.
12.Stronger anti-interference against metal detection by multiple filtering and X-R orthogonal decomposition algorithm.
● German HBM fast load cell
● Japanese Oriental motor
● Danish Danfoss frequency converter
● Japanese Omron optic sensors
● French Schneider electric unit
● US Gates synchronous belt
● Food grade conveyor belt
● Weinview industrial touch screen display with USB data output
● Japanese SMC pneumatic unit
Model

FA-CMC160

FA-CMC230

FA-CMC300

FA-CMC360

Detecting Range

3~200g

5~1000g

10~4000g

10g~10kg

Scale Interval

0.01g

0.1g

0.1g

1g

Detecting Accuracy

±0.1g

±0.2g

±0.3g

±1g

Detecting Speed

150pcs/min

150pcs/min

100pcs/min

75pcs/min

Weigher Size(W*L mm)

160x200/300

230x350/450

300x450/550

360x550/800

Metal Detector Head Size

Tailored as per inspected product size

Metal Detector Sensitivity

Fe≥0.6, NFe≥0.8, SUS304≥1.0

Material of Construction

Stainless Steel 304

Belt Type

PU Anti Static

Line Height Options

700,750,800,850,900,950mm +/- 50mm(can be customized)

Operation Screen

7-inch LCD Touch Screen

Memory

100 kinds

Weigh Sensor

HBM high accuracy load cell

Rejector

Flipper/Pusher/Drop-down/Flapper/Air Blasting, etc

Air Supply

5 to 8 Bar (10mm Outside Dia) 72-116 PSI

Operating Temperatures

0-40℃

Self-diagnosis

Zero error, photosensor error, setting error, products too close error.

Other Standard Accessories

Windshield cover(colorless and clear), photo sensor;

Power Supply

AC110/220V, 1phase, 50/60Hz

Data Retrieval

Via USB(standard), Ethernet is optional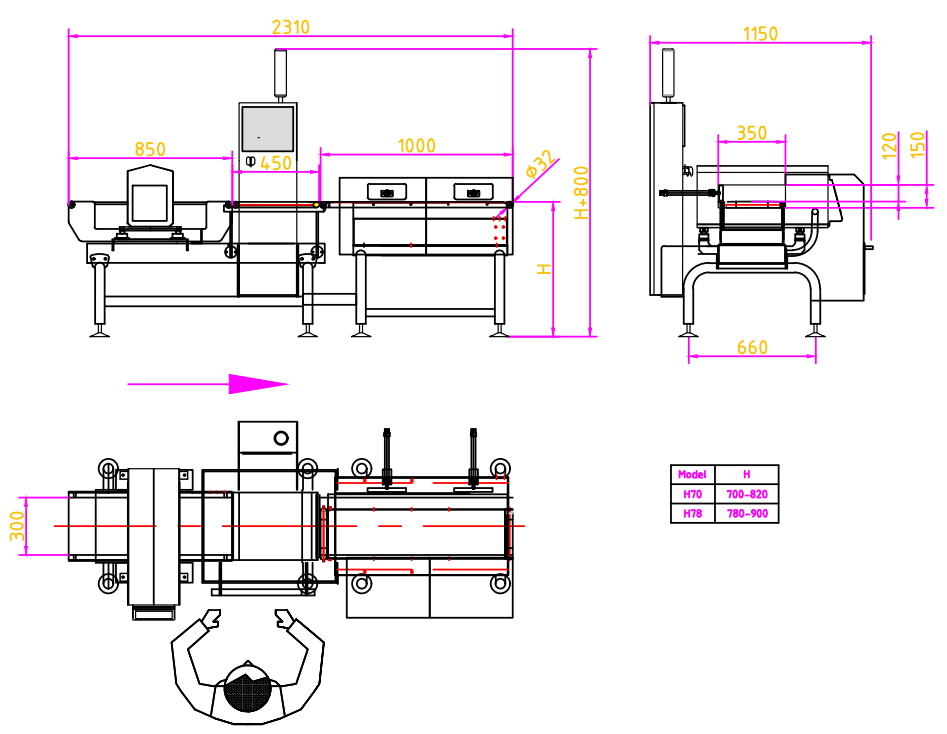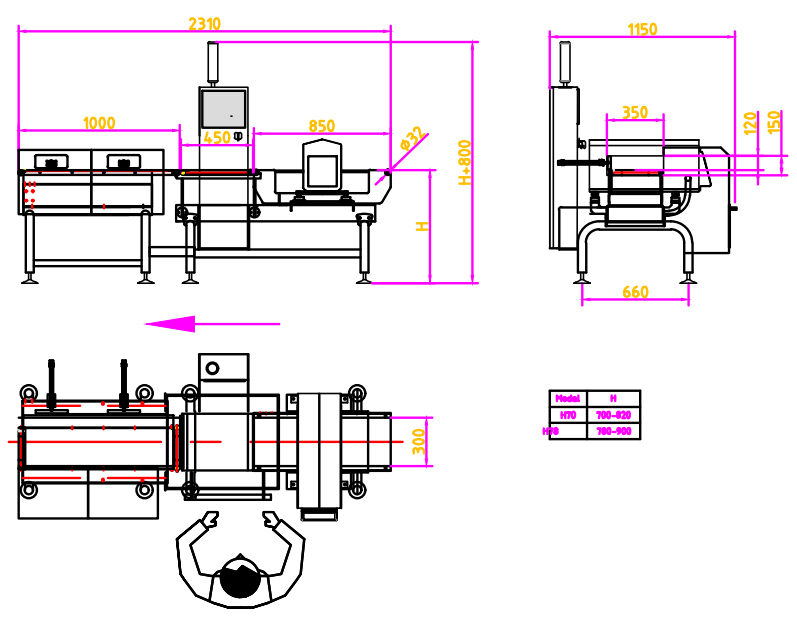 ---
---